Symposium 2017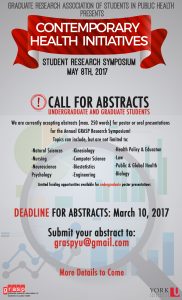 Symposium 2016
Thank you everyone for making the annual GRASP Symposium a success! Please click this link (GRASP Conference Booklet) to see the program for the day.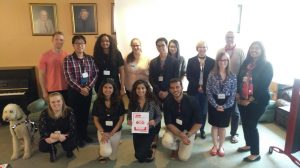 Keynote Speaker: Harvey Skinner PhD, CPsych, FCAHS Founding Dean, Faculty of Health, York University
Dr. Harvey Skinner is a Professor and founding Dean of the Faculty of Health, York University created July 1, 2006. This Faculty is on an ambitious mission to be an integrative force for promoting and transforming health – locally and globally. Previously, he was Chair of Public Health Sciences (now Dalla Lana School of Public Health), University of Toronto. He is an internationally recognized scholar (7 books, 150 articles) on what motivates individuals, organizations and communities to change, Dr. Skinner is a pioneer using Internet and mobile technology for prevention and healthcare (eHealth), and he has a special interest in global health. Dr. Skinner is a Registered Psychologist in Ontario and a certified trainer in Motivational Interviewing. In September 2007 he was inducted as a Fellow of the Canadian Academy of Health Sciences.
To see more photos from the day check out our Events Photos page!